Morro Bay has a wide variety of hotels and motels to choose from. Many with stunning views overlooking the beautiful bay and pacific ocean. You will have no trouble finding "dog friendly" hotels not only catering to your needs but your pets as well. Most are walking or biking distance from the iconic Morro Rock and the popular Embarcadero shopping area.
Don't forget to explore all the treasures found on Main Street and Morro Bay Boulevard as well. Of course the Art Center Morro Bay is located at 835 Main Street in downtown Morro Bay. You can also find antique shopping, thrift shopping, movie theater, ice cream stores, coffee shops, pastries, and a host of restaurants to tempt your palates.
Explore the bird sanctuary or Natural History Museum, play golf at Morro Bay Golf Course, Kayak, Fish, Surf, Whale watch, Paddleboard; there are numerous hiking trails in and around Morro Bay as well as great biking paths. Tour the bay on your own or with one of the tour companies ready to share their knowledge. Take a short drive into Edna Valley where you can sample the exquisite wines of the many wineries found in the area, picnic and hike.
Morro Bay has a rich early history stretching back to the Chumash and Salinian Native Americans and includes visits by Juan Rodriguez Cabrillo and the Manila Galleons of the 16th Century. In 1542, Portuguese explorer Juan Rodriguez Cabrillo named Morro Bay's magnificent landmark "El Morro" (Spanish for crown shaped hill). Morro Rock is also sometimes called the "Gibraltar of the Pacific."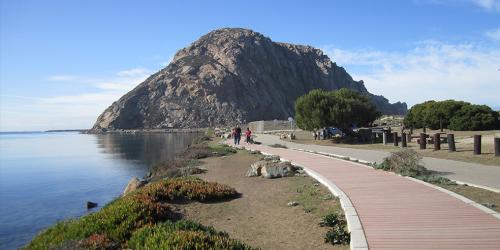 Morro Rock is a State Historic Landmark, a bird sanctuary and home to nesting Peregrine Falcons. It is therefore closed to any climbing or disturbance. At a height of 576 feet, Morro Rock has been an important marine navigational aid for over 300 years. It is likely the most photographed of all the morros, and serves as Morro Bay's gateway to the Pacific Ocean.